To be clear, I'm talking from a mythological or urban legend standpoint.  I'm not asking you to share why you admire Apollyon or in what ways you think the Mothman is cool peeps.  I'm more asking which demon or legend you find most interesting.
For instance, Kannô Byôtô is a ghost originating back to Japan's Edo period.  She is said to have been an extremely beautiful woman who was mutilated by her husband, cheeks slit from the corners of her mouth to her ears.  She wanders around empty or fields or in the woods late at night, covering her disfigured face with a fan or scarf.  If you happen upon her, she will ask you if you think she is pretty.  If you say yes, she will show her face and ask the question again.  If you reply affirmatively again, she will slash yr face to match her own.  If you say no, she will let you go but then follow you back home and kill you, brutally, in yr sleep.  The only safe way out of the scenario is to give a vague answer… like 'yr kinda pretty, but not my type' or 'honestly, you could do with a little bit of touch up work.'  My impression is that she's looking for honesty but not outright rudeness.
The only restrictions I'm placing on this is that the demon or spirit or creature in question be either unique or solitary.  A Bulgarian weather demon, one of the Hali, would be acceptable because they are singular beings.  Baba Yaga isn't solitary… she has servants… but she herself is unique.  But you can't just say 'vampires' or 'shadow people.'  That would be answering a different question.
So… who is yr favorite demon, spirit or creature… and why?
8 )
[img]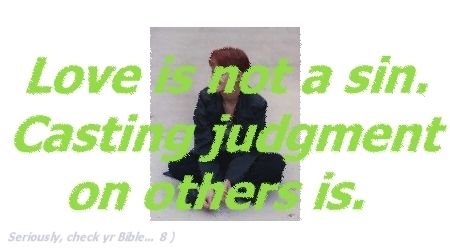 [/img]