Early in 2017, I think sometime in late February, the spirits of two small children attached themselves to me. Mind you, I didn't know it at the time. I had no clue what was going on and was completely freaked out, with all the horror movies I've ever seen about ghosts and demons somehow now seeming possible or real. I did some research, sussed a few things out, but it wasn't until Easter that I became convinced that I fully understood what was going on.  They weren't demons or hostile spirits or anything like that... they were two little girls who just wanted to play. 
I only learned their names recently... Andrea a couple months past and and Susan not long after.  You may wonder how I know their names.  You may wonder how I know there are two of them.  And you may wonder how I know they're children.
The answer to the first is... well, they found a way to introduce themselves.  The answer to the second is that they found a way to tell me.  And the third?  Well, it all goes back to the last week of February...
*Note*  This is a 'cut and paste' of something I posted on Facebook back in February.  Many of these posts will be.  I'll try to be clear about when something is current and when something is not.
I was visiting my parent's house after work the other night and sometime around 11pm I realize I left my cellphone in my car.
For context, you should know that my parents live on the outskirts of a small town named R______. The nearest neighbor is half a football field to the left. They have a huge back yard, beyond which is a woods. To the right is a small woods and stream. On the other side of the woods is an abandoned farm. Across the street is a golf course that hasn't been open for years and the only street lamp is three houses down to the left. So, generally speaking, it's rather creepy to go outside after dark.
Still, it's the 21st century and we can't live without cellphones, so I turn on the porch light and make my way outside. Maybe ten paces outside the front door, I stop dead in my tracks.
Also for context, I should point out that… while I'm far from savage… I also rarely lose my cool. Calm and detached is kinda my thing. I have been held at gunpoint, robbed, dealt with bomb threats and once, I even had to call the police on a naked guy in my establishment who was intent on shaving his pubic hair in public.
Incidentally… totally not cools. It was lunch time and no one wants to see that while they're eating.
So I head out the door and ten steps later, I stop dead in my tracks. Off in the the woods, louder than would be natural, I hear the sound of a small group of children laughing and giggling and shrieking with gleeful delight. This goes on for about 10 seconds, then just stops. It doesn't die down or fade out, it just stops. I stand immobile for another 5 seconds or so, seriously considering whether or not I should turn around and go back inside the house. Eventually, I force myself to my car, retrieve my cell phone and all but run back inside. 
For the life of me, I can't think of a rational explanation. No children live near my parents, so they couldn't have snuck out. No sane adult would drive a group of small children to a remote forest at 11pm on a school night and let them play in the woods without so much as a flashlight. And nothing could explain the volume and clarity to which I heard the children, at the distance the woods are from my parent's front door. Even the possibility than some teenagers were playing a prank is implausible... my parents are in their 70s and never go outside that late at night. No one would have any reason to be waiting for the opportunity to spook someone.
As absurd as it sounds, the only explanation I can think of is demon children. Or ghosts maybe. Still, 'demon children' has a nice ring to it.
That part might seem a bit flippant, but that laughter chilled me to the core.  I have always believed in ghosts, theoretically.  But when you actually experience this sort of thing?  It's different.  Andrea and Susan tried to get me into those woods that Tuesday back in February, and the next two consecutive Tuesdays... and when they failed to get me to come to them, they came to me...
[img]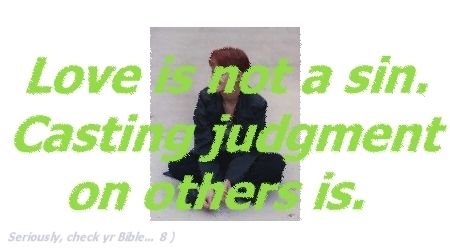 [/img]