I KNEW IT!!!  I FRIGGIN' KNEW IT!
You had a citation in you.  I've bin trying to draw it out and… bang!  There you go!
Here's the thing.  I don't disagree with you calling people out for their behavior.  I call you out all the time.  But, yr citation was half of a sentence.  Granted, the other half wasn't necessary to make yr point, but you have to take the

whole

paragraph

into consideration.  For instance, we are urged in Thessalonians to 'admonish the idlers' but also 'help the weak' and, certainly, 'be patient with all of them.'
I admit, you've totally got the admonishing part down.  Not so much the part about being patient.  And these people you think are somehow foolish for their beliefs?  Maybe take a different angle and consider them weak.  They need yr guidance, not yr scorn.
If you want people to listen to you, treat them kindly.  Few people listen to those who are rude to them.
(Citation for above):  1 Thessalonians 5: 12-22
Oh, and side thought… I think yr underestimating the worth of 'books of fantasy.'  Parables, poetry and fiction can contain quite a bit of wisdom.  Candide gave us 'the grass is always greener on the other side' and 'tend yr own garden.'  Machiavelli's most famous work had chapters discussing things like whether or not it is better for a ruler to be feared or loved.  Even the Lord of the Rings trilogy and it's Counterpart, The Chronicles of Narnia, were an exploration into Christian belief… the first subtle, the latter overt.
Suppose all these 'holy books' are too dense for me, and I prefer comic books.  And Spider-Man, he struggles at times, but he always seems to make the right choice.  And I struggle at times, but I know that I can be strong… like Spider-Man.  And so, at the end of the day, I always find the strength to do the right thing.  How is it anyone's place to judge me on that?
Incidentally, no… that wasn't a real-life anecdote.  I'm much more of a Scarlett Witch sort of girl…
[img]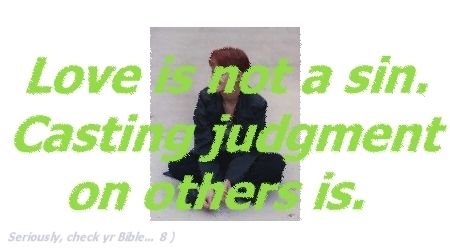 [/img]